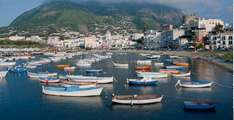 Forio di Ischia
Forio is the largest of the villages of the isle of Ischia, in the Gulf of Naples; the access to the island is easy and its tourism is marked by a diversity of stiles and possibilities for every tastes.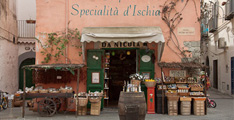 You will be able to enjoy your stay with visits to the Church of the "Soccorso", the botanic gardens, walking down the characteristic narrow streets once tread just by the fishermen who populated the village, or go to the local cinema. If you like relax and rest, you will want to take advantage of the wellness and thermal bath only 15 minutes distance from our house, by the Citara beach.
The restaurants, pizzerias and the snack bars' terraces will offer you opportunities for rest and good food, without forgetting the famous Italian ice creams. It will only take a short walk from the village centre to find yourself before some of the most breathtaking panoramas, or try all sorts of aquatic activities.